ARE YOUR CUSTOMER'S CREDIT CARD NUMBERS IN JOKER'S STASH?
Joker's Stash is a hacker's paradise. Founded in 2014, the website provides new sensitive information almost daily including full credit card numbers, expiration dates, CVV codes, as well as Social Security Numbers and IP addresses. Joker's Stash is just one example of this growing organized cyber crime threat that is becoming more sophisticated, posing a risk to your organization's data security.

Having finished intelligence at your fingertips is a cornerstone to your 
cybersecurity program.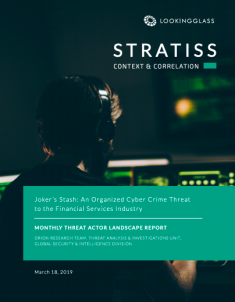 LookingGlass Cyber Solutions, Inc. © 2019